Westacres 2022 Craft Show
Saturday, November 5th, from 10 a.m. – 4 p.m.
3700 Westacres Dr, West Bloomfield Township, MI 48324
Sponsored by The Westacres Women's Club, this annual event is one of the largest fund raisers for the community, not only supporting a local charity, but also helping provide scholarships for neighborhood high school seniors.
The show features 30+ indoor booths featuring high-quality, unique, hand-crafted work including jewelry, pottery, painting, photography, glass, and fiber.
Visit westacrescraftshow.com to see featured artists and visuals of their amazing offerings.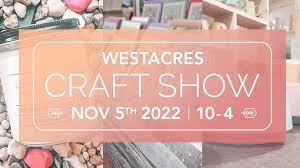 About Us
Westacres is a tight-knit neighborhood in West Bloomfield, Mich. In 1968 the Westacres Artist Market was started and in response to an increase in more hand-made crafts, the Westacres Women's Club began the Westacres Craft Fair in 1974.
48 years later, we still enjoy collaborating with local artists and meeting 500+ wonderful shoppers who come to visit the Westacres Craft Show!